Music Video Pro-Look HD with Panasonic Af-1oo
A 2 Z Tut allmighty full HD 1280/750 hotttttt look! Yo i am here to give you my real inside POV from going at it hard angle, not all the other stuff, no sponsors twisting my arms here,, itz real talkkk!  I want you to know what really kutz it in today's small market budgets and what tools can you use in your reach to still put you all the way in the game just like the pros do but save you money and allow you to be more creative and hire a real DP with a good eye to help bring out the potential and capture your vision best as possible on a small budget!!!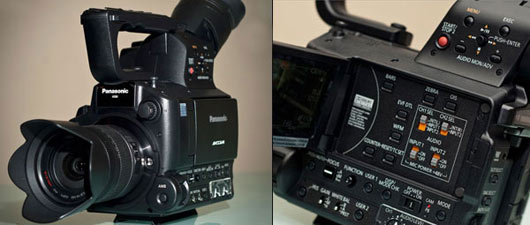 Can i  get a real looking music video in HD quality? really and not kill my pockets?? Does having a  film a crew help? Do I need to understand what i'm trying to accomplish here (meaning on my set)? And  is there a simple camera solution available and affordable to use to take my productions to the next level!!!
OK, the answer to all these simple questions but yet vital questions which will hit you when your standing out in the cold trying to shoot your boyz music video for his new ep or mixtape single for lunch  money or treat to subway later, is yes, yessss, yesss,, and yessssssss! I don't even want to run on and on about why i have found the perfect camera for youuuu and hold you up to see my work from using this camera! I kicked off this blog with the link period, so you noooo i aint kidding around!!! check the links out now if you want, so if you just want 2 come back later after you just watch the video we shot for a local artist named "Tut allmighty" Cleveland 4th year in a OHHA Ohio HIp Hop Awards row free style battle rapper winner and currently  in BET 2011 new free style Friday commercial, go right ahead!  Trust me you will be impressed, kuz  am and i have worked allot of shoots! wuuu weee this camera HD is off the map!! Check out the lower resolution and how great it looks at 640/390!! cumm onnn, you want this camera for your next hiphop shoot, or what ever kind of music it izzz, you wantt ittttttttttttt! like wiz khalifia said, "you no what it iz" HD  you can afford and get that cinematic look you have dreamed of right in your hands vibe,,,soooooo  camcorder style,,,,,,its off the chain! yeahhhhhhhhh!
A 2 Z Tut Allmighty video 640×390 resolution 
Ahmmm kool with you reading my excited review later, but understand this, the Panasonic AG Af-100 is a beast, 4shoooo!!!that being said, lets talk about why i luvvvv this thing okkayyy(Lil Jon Voice), but here me out! This camera is super slickk 4 real, its a true affordable option available to you and any 1 who wants to take the horse by the reigns and gooooooooooooooooo with it, seriously! I am just sooo pumped right now, sorry, this camera operates looks and feels like a traditional video camera, not to  heavy, layout is  kool, allot of features and switches, (make sure to take the manual with you okkk, it never hurts to cover your but when your out shooting in case you get stuck on a menu or you wanted  to vari your shooting speeds for that really glass slow motion look, of the fly girl walking byy, cum on fellahzz you no what ahmm talking about,lol!!) But really, back to the fun side,,,, The  koolest feature is  the fact that this loaded flyyyyHD camera  gives you 35mm like DOF( Depth of Field ) for its price  like a HDSLR and it accepts 35mm still or PL mount lenses.
maulyt break down of Depth of Field just as a refresher for those who are getting started, its all good! read this  so your familiar with some jargon!
* ***DOF=  is a distance range in which objects appear to be in focus. Deep DOF means more of the scene will appear in focus, shallow DOF means the range will be smaller and objects closer or further will appear blurred. Also known as selective focus, it's artfully used by DPs to naturally draw the viewers' attentions to the primary subject****
AF-100 camera is so flyy that you can shoot in very low light and crank it adjusting to get more light in and the image really doesn't break up in the dark!  You still can see, its like amazing! so you don't need a ton light if your budget doesn't call for it, try and rock allot of daylight with bounce cards and such, but this camera is my next toyyy! For commercials, music video,documentary, clubs shows/performances this is the winner hands down for me anyway! I have supplied 2links 1 in Hd hi res and other in little lower res to show you what this cameras and image quality is made of when your counting on it! Just be smart with your locations and get your film mind rolling ,a good dp can really take this camera there for you cinematically  and bring to life what your hoping to "capture",, itz all about the ,motion!!! no punn intended!!! thankz to Capture Motion, my man john Lorince is a great filmmaker!
Mannn i promise you will love it, reallllllly luvvvvv it! This is a all out Professional Film-like Digital Camcorder with all the features we expect to have on a camera, like  white balance,zebra stripes, cine-gamma settings, time-code recording, balanced XLR inputs with Phantom Power, 48-kHz/16-bit two-channel audio recording which sounds very good, trust me with a headphone out! It can record at 1920 x 1080 full HD images highest seting  recording on SDXC cards which are really cheap! I didn't mean to get all serious on you with the jargon and stuff, but in closing you can get a 16gb card for like $30 bukz and shoot at the highest ph setting 1920 x 1080 for about *90 minutes of time! wowwwwwwwww, you can jus t throw in more cards and shoot all dayyyyyy long , are you kidding me!  So kool, anyway , before i start getting more detail seroius,and going over more features,  this   camera is mos def worth you checking out, besides the red one, or the clumsiness feel of the cannon 5d,,,,,,,, consider the Panasonic AF-100 , you cant go wrong! please hit me with questions or comments, if you have shot with this camera, let me know what your experience were like, all ite!!!,
I like the 3.45 inch lcd display with brilliant definition and awesome colors, inputs and outputs hdmi , usb 2.0, AV out, index, Headphones, hd/sdi and the  ability to connect several manufacturers lenses to the camera with an adapter,i mean wow!! And no stress on shooting storage like you would have with the red or cannon, cheap and it goes a long way without worrying bout your shooting ratio!!! I could go onnnn an onnnnnnnnnnnn  for dayzzzzzzz talking about the af-100,, sorry, i am rambling again, just sooo pumped!
Look at my video, let me know what you think,!!! it was a kolddddddd Cleveland snowyy dayy, freezing are buttz off, but that camera never stop working,,, I know every tool that comes out may not be for everybody, but this camera is worth your time to check out, i promise you that much,it is a excellent tool  4shoooooo!!! ok, till next time , njoyyyyyyyy ahmmmm out!
PS. Did i mention "I Luvvvvvvvvvvvvvvvv  this Camera"!!!!!!!!!!!!!!!!!!!!!!!!!!!!!