Old Fashion Mixed by Marlowe Taylor, CAS Sound Mixer!
Ok, Wow I haven't had a chance at all in 2013 or 2014 to post anything! I m very sorry, yes i mixed a lot of movies last year, so far a record high(8). But anyway that's another blog conversation, lol! It was a wonderful union  working year!!!
But lets talk about the movie Old fashion directed by Rik Swartzwelder and shot in Southern Ohio in a very very small town! It was a very cool experience for me, because i had to do all the wiring of the lavs and things on the talent plus plant mics and other tricks, which was fine until i realize the director had to play the lead role in the film due to unforseen circumstances,,,!!! Soooooo Holy smokes, your kidding me right, now there is no room for mistakes right!! You called it, so lets just add to my already nervousness to mix at the cart and run out to adjust wires, boy ohhhh boyeeee, lol! Well as you can imagine i lived up to my rep for being a Good Sound Mixer and it went off without a hitch, built a wonderful relationship with the producers and the director and was able to help with voice over work and all the ADR needed to really add more life to the scenes in the near future. Lets talk about the adr session for a minute, i understand why most sound mixers just stick with doing sound on set and not stepping into the post world especially if it's a film you mixed and you get a call about ADR!! You cringe like what did i do wrong , all man i thought i covered this and that, adr for whattttttttttttt??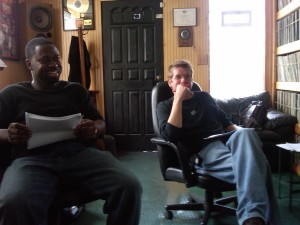 Yep the director is chilling watching his monitor!(up top)
This session proved that Adr isn't all about what the mixer did wrong or planes, trains and lawnmowers being to loud, sometimes there is dialog that needs to be added or voice over from the characters thoughts, or a few quick lines when the camera cuts behinds the actor head and you can slip in a few extra words that just make the scene jump right at you emotionally!!! Wow , what do you know, this is how Adr is also used, i have to tell you i felt 1 million times better,, good grief, hahah lol! This was one of the most exciting ADR sessions i have ever had and the cast that stop by were all amazing and like family! It was all smiles and lots ,, lots and lotsssssss of laughing that week! I have to say Rik is an awesome director and I pray to mix his next big adventure as well! Speaking of big adventure, check this out Old fashion the feature has been released Valentines Day Weekend 2015 and for a small indie film only  in select theaters it reached $1.1 Million Dollars at the box Office and has now gotten selected to open in 100 more major cinema's. Old fashion is a true love story of how relationships come to life and should take their time to blossom which is the grounds for a strong and lasting marriage with a prosperous future!!!
If you get a chance make sure you check out Old fashion In theaters now February 2015, please take your girlfriend or significant other, it's a warm love story with beautiful cinematography and of course super Digital Marlowe Taylor, CAS sound! lol

Old Fashioned Indy Filmmaking

February 13th, 2015
 Rik Swartzwelder  &  Elizabeth Anne Roberts in  "Old Fashioned"   courtesy Skoche Films
Supporting Us Opening Weekend 

"Old Fashioned" Opening nationwide is a remarkable feat for this totally indy film.  All of our marketing has been good old fashioned grass root in nature via word of mouth and social media thanks to all of you.

Old Fashioned was filmed on location in Tuscarwaras County, Ohio.   Your continued support in spreading the word is paramount to the films success.

  Thank you so much!

Finding a theater near you!

 

In Northeast Ohio near Cleveland the film will open at Cinemark at Valley View located at 6001 Canal Road,
Valley View, OH 44125   (216) 447-8820.

Near Akron/Canton: Cinemark's Tinseltown located at 4720 Mega Street NW, North Canton, OH 44720   (330) 305-9877.

The film will also open at the newly restored Quaker Theater in New Philadelphia, Ohio which is one of the towns in Tuscarawas County where the movie was filmed.

The Quaker Theater is located at 158 W High Ave, New Philadelphia, OH 44663 (330) 343-7300.

For the rest of  you across the country, click the link below for a theater near you or get more information on arranging a screening in your hometown at the Get Ticket button.

TONIGHT!

-

"Old Fashioned"

-

Opens Nationwide

Share with your

Valentine

Thank's to our outstanding  crew, talent and volunteers.

You made all the difference in producing this film on an almost impossible budget.

Thank you so much.

Happy Valentines Day!

Co-Producer / UPM
"Old Fashioned"

To arrange an "Old Fashioned" Movie screening in your area
Click Here
| | | |
| --- | --- | --- |
| | "Imagination working for you" – BELLTOWER Productions, Inc. | |
| | |
| --- | --- |
| STAY IN TOUCH |   |
It's here folks and tomorrow at Cinemark in Valley view at 7:40pm show the director Rik Swartzwelder and a few actors will be there for q&a  and meet to greet, so come on down  folks and make it an Old Fashion night, come out and support a wonderful Indie Film!
Old Fashion Mixed by Marlowe Taylor, CAS Sound Mixer!
A small reminder
There will be an "Old Fashioned" talent appearance on tomorrow Friday 2/20 in the Cleveland area.
Date: Friday 2/20
Place: Cinemark 24 in Valley View, OH
Showtime 7:40PM OLD FASHIONED
Located at 6001 Canal Rd, Valley View, OH 44125
Those attending
Rik Swartzwelder – Director
LeJon Woods – Actor (David)
Ange'le Perze – Actress (Cosie)
Hopefully 
 Cleveland theatrical legend Dorothy Silver – Actress (Aunt Zella)
I'll be there as well!
The totally indy film "Old Fashioned" filmed in Ohio, opened nationwide this last weekend and earned an estimated $1.1 million at 224 locations. That seems to be the biggest weekend ever for a faith-based movie playing at fewer than 300 theaters according to Box Office Mojo -http://www.boxofficemojo.com/news/?id=4026 , and we're adding 100 screens this weekend.
yeahhh that's sooo Digital! congrats to all who worked this film! It's a very proud moment to see it come to life!
Happy New Year